Man, 27, arrested over Newry car ramming freed on bail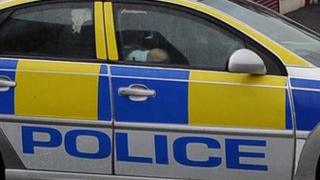 A man, 27, who was arrested after four police officers were injured in a series of road "rammings" in Newry, County Down, has been released on bail.
Three police officers were hurt after their car was rammed by a silver BMW on Sunday.
Another officer avoided serious injury after the same car reversed towards her, forcing her to jump out of the way.
The man was arrested on suspicion of motoring offences and assault.
Police said officers in the Ferryhill Road area first noticed the car driving in tight circles at high speed in the middle of the road at about 19:30 BST.
When they indicated to the vehicle to stop, the driver rammed the police car, they said.
Three officers were treated in hospital for head and leg injuries.
At about 22:10 BST, the car reversed at another officer who jumped out of the way to avoid being struck, police said.
The officer was taken to hospital with minor injuries.
The BMW was then seen at a property on Kelly's Road at about 22:30 BST, where police arrested the 27-year-old.
Police are also investigating other reports of vehicles, possibly including a silver BMW, driving erratically in a number of areas close to the border with the Republic of Ireland on Sunday night.