Norbrook Laboratories: Newry-based firm in £14m profits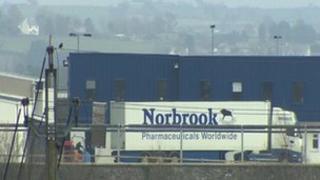 The pharmaceutical company owned by the late Dr Edward Haughey, who was also known as Lord Ballyedmond, made pre-tax profits of just under £14m in 2013.
He was killed in a helicopter crash at his estate in Norfolk in March.
His firm, Norbrook Laboratories, grew its turnover to £188m from £181m, although profits were down on the £16m achieved in 2012.
His widow, Lady Ballyedmond, and one of his sons, Edward Haughey, joined the Norbrook board in June.
Lord Ballyedmond's other son, James, has been a director of the company since 2013.
Over the year Norbrook increased its workforce by over 100 employees, which saw payroll costs increase by almost £4m to £52m.
The firm now employs 1,700 people in Northern Ireland and is one of Northern Ireland's largest exporters.
It is best known as a veterinary medicine manufacturer and also makes human pharmaceuticals.
It spent almost £13m on research and development in 2013, up from £11m in 2012.
Lord Ballyedmond, who was one of Northern Ireland's richest men, founded the Newry-based firm in 1969 and remained in control until his death.
His helicopter crashed in fog near his stately home in Gillingham, near Beccles, Norfolk.
Norbrook site foreman Declan Small and pilots Carl Dickerson and Capt Lee Hoyle also died in the crash.