£40m of Northern Ireland assets still owned by Nama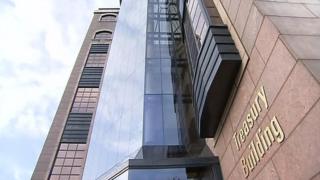 When a New York investment firm agreed to buy the entire Northern Ireland loan portfolio held by Nama - the Republic of Ireland's state-controlled "bad bank" - it looked like the organisation's last hurrah north of the border.
But that isn't exactly what has happened.
In April, the investment firm, Cerberus, took control of a vast array of properties for which it is reported to have paid £1.3bn.
However, Nama (National Asset Management Agency) still has around £40m of Northern Ireland assets.
That is because Cerberus has bought the loans which were made to Northern Ireland-based borrowers.
It has not taken control of the loans made to people from outside Northern Ireland who bought properties here.
That equates to just a small number of assets.
Freeholds
The section of the Nama website that deals with repossessed properties lists some of them.
Before the Cerberus deal it listed 149 properties, now it is down to just nine.
The most prominent is the Windsor House office block, the tallest commercial building in Ireland, which is on sale for £5m.
It was bought in 2007 by Lauderdale Properties, a joint venture between Dublin developer Ray Grehan and Cavan-based construction group P Elliott.
Lauderdale Properties was placed into administration in 2012.
Also on the list is another asset connected to P Elliott, a derelict property on Belfast's York Road, which has planning permission for an office development.
Three further assets are the freeholds of Belfast pubs, which were formerly owned by County Clare businessmen Sean Lyne and Noel Connellan.
Rounding off the list are two industrial units in Newtownabbey and a 10-acre housing development site in south Belfast.
The housing site at Brooke Hall, on the Saintfield Road, was formerly owned by the Dundalk-based developer John McCann and is on the market for £2.5m.
Once these assets are sold then Nama will definitively be finished with Northern Ireland.