Stormont budget: Cuts set out in finance minister's paper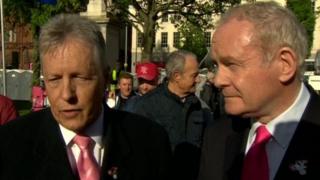 The finance minister has circulated a paper that will result in millions of pounds in cuts across departments.
Health and education will be excluded, according to Stormont sources.
The paper follows intense discussions between the first and deputy first minister on how to deal with tens of millions of pounds of outstanding budget pressures.
The DUP and Sinn Féin were putting the finishing touches on the proposals on Wednesday.
Ministers are being asked to comment on the paper, which deals with the June monitoring round.
This is when unspent funds are redirected to areas that are in need. It should have been agreed around three weeks ago.
But, it was delayed by arguments about how to deal with forthcoming welfare penalties.
The financial pressures in the June monitoring round are also due in part to over-spending.
Sinn Féin's position is that it has not agreed to impose any cuts due to welfare penalties.
Other sources say the paper makes clear that the issue will have to be addressed in future monitoring rounds and the latest budget plans are predicated on this.
It is hoped an executive meeting will be held next week to discuss the paper.
If agreed, Finance Minister Simon Hamilton will make a statement to the assembly, possibly in written form as it is in recess.
If health and education are to be ring-fenced against the cuts that means the burden of the financial pressures will fall on the other ten departments.
One source suggested the paper recommends funding for the Historical Institutional Abuse Inquiry (HIA), and possibly an extra £40m in funding for health.