John Brown jury to resume deliberations on Thursday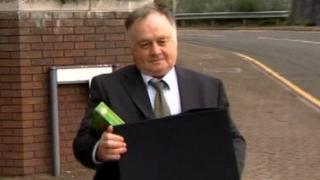 The jury in the case against John Brown, the brother of Eurovision winner Dana, will resume its deliberations on Thursday after being sent home.
Mr Brown, 60, denies five counts of indecent assault against two underage girls in the 1970s.
Earlier, the jury retired to consider a verdict after the judge summed up the case at Harrow Crown Court.
He told the jurors to take "a coolly analytical approach" and not to get involved in "emotional expressions".
He told the jury of six men and six women that they must be satisfied that the alleged incidents took place and that the alleged victims were under 16 at the time.
The judge read through a summary of evidence given by various witnesses in the case, including Dana Scallon, who dismissed the claims as "lies" when she took to the stand earlier this week.
The trial has so far lasted over two weeks.