Cash machine skimming device found in Belfast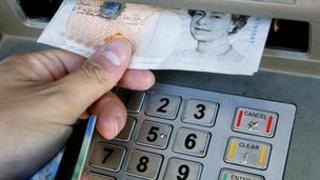 A skimming device to steal people's bank details has been discovered on a cash machine in Belfast.
It was found at an ATM at a service station at Milltown Road in the south of the city on Saturday morning.
Detectives have advised people to be vigilant when withdrawing money.
Skimming devices are usually attached to the front of a cash machine and a customer's card details are then copied when they withdraw money.
Small cameras may also be attached above the cash machine to record the customer using their PIN, enabling criminals to clone bank cards.
It is believed that in this case, the device was attached to the machine early on Saturday morning and police have appealed to anyone who was in the Milltown Road area between 05:00 BST and 06:00 BST and noticed anyone acting suspiciously to contact them.
Police issued the following advice:
• Make sure you hide your pin number while at an ATM as criminals may be watching;
• Be aware of your surroundings. If you are talking on a phone or wearing headphones, you cannot take in what is going on around you;
• Cardholders should also guard their personal identification number (PIN) more carefully and be aware that any form of distraction or assistance while they are using an ATM could mean someone is trying to steal their dispensed money or their card;
• If someone tries to distract you and you feel unsure - cancel the ATM transaction;
• Do not be complacent - a robbery can occur in crowded environments, not just deserted streets.