Death link drug 'principally a Northern Ireland problem'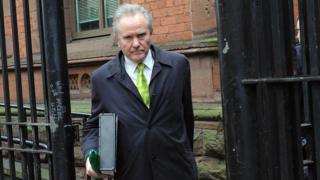 A drug linked to the deaths of 20 people is "principally a Northern Ireland problem", a coroner has said.
John Lecky, senior coroner for Northern Ireland, was speaking at the inquest of a 21-year-old County Down man.
Connor Cochrane, from Banbridge, died after taking a cocktail of substances including para-methyl-4-methylaminorex.
The court heard that in tablet form it is often mistaken for ecstasy and has sometimes been called green rolex or speckled cherry.
The court heard the drug is relatively new and probably originated in the Netherlands.
It has been seized in seven countries but is responsible for causing death only in Northern Ireland and in Hungary, where there have been eight deaths.
A toxicologist told the inquest that there had been several seizures of the drug last year.
She said the substance had been found in six other countries, including the Netherlands, Finland, Denmark and Hungary.
She said Hungary was the only other country where deaths had been recorded.
She said the drug could cause impaired consciousness, organ failure and death.
Explaining the difficulties in identifying new chemical configurations, she said that a reference standard had only been developed to test for para-methyl-4-methylaminorex this month.
She said it was often manufactured to look like ecstasy tablets.
"I couldn't tell the difference in looking at them," she said.
The court heard that the drug had caused Mr Cochrane's body to dramatically overheat, which caused fatal swelling of the brain.
The cause of Mr Cochrane's death was recorded as poisoning by drugs
The coroner said he hoped the Cochrane family would take comfort in hearing the issue was exercising the minds of the attorney general, the Department of Health and other agencies.