Belfast child heart services review delayed again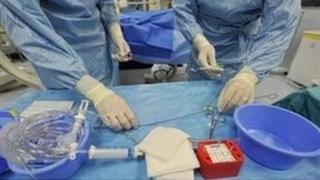 There has been a further delay of the review into children's heart services in Belfast, the BBC has learned.
The report was expected at the start of July, but health officials have said it is now expected "in the near future".
In the past week more children than ever before have had to travel to England for heart treatment, according to the Children's Heartbeat Trust.
Between 1 July 2013 and 30 June 2014, 96 Northern Ireland children had paediatric cardiac surgery in England.
In the same period, seven Northern Ireland children had cardiac surgery in Dublin, while between 1 January and 30 June 2014, the paediatric cardiac surgeons from Dublin carried out 14 procedures in Belfast.
A County Down mother, whose daughter has to travel to Birmingham for heart surgery, has said she is angry and frustrated that the matter is still not resolved.
Six-year-old Myra Black was due to travel to Birmingham last week but as they were leaving they received a call to say the operation had been cancelled.
It has now been rescheduled for next week.
"The day we were to travel we just found out at nine o'clock in the morning that there was no bed available and surgery would be cancelled for the next day," Mrs Black said.
"We were then given a new date which is next Wednesday, but unfortunately the same can happen again, where we don't know until we contact the ward that day whether we can travel."
System 'very sporadic'
Sarah Quinlan, from the Children's Heartbeat Trust, said: "So many more families have been travelling to England than ever before.
"We have been supporting in the region of 10 families a week who have to travel to England for surgery. The system in place between Belfast and Dublin seems very sporadic.
"If more and more families are having to travel to England, then clearly they're not getting the surgery we'd expect them to be able to get either in Dublin or in Belfast.
"This is very frustrating because we were hoping to have a Belfast-Dublin solution in place, yet currently families are finding themselves in limbo and are having to travel away for surgery."
In a statement, the Department of Health said: "The ministers of health in Northern Ireland and the Republic of Ireland have asked an international expert group to carry out an assessment of the potential for an all-island paediatric cardiac surgery model which would meet the respective needs of the population of Northern Ireland and the Republic of Ireland.
"We had expected to receive the expert group's report by the 1 July 2014, but this has been delayed and the report is expected in the near future.
"The [health] minister [Edwin Poots] fully understands the desire of parents to reach a decision quickly on the future of this important service and is committed to reaching a decision as quickly as possible."