Up to 30 people helped out of slavery in NI each year says David Ford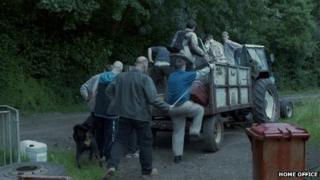 Twenty to 30 people a year are helped out of slavery in Northern Ireland, according to Justice Minister David Ford.
A UK-wide awareness campaign begins on Thursday to highlight the issue.
It will include television adverts, a website and a dedicated helpline that the public can use to report any concerns.
Mr Ford said it was important to "dispel the myth" that slavery was not taking place in the UK.
"The reality is that these despicable crimes are taking place in both urban and rural areas across the United Kingdom, including Northern Ireland," he said.
"While law enforcement agencies are working hard to rescue the victims the public can help enormously by reporting suspicions. There are then support mechanisms in place to assist potential victims."
Assistant Chief Constable Drew Harris welcomed the campaign as a way of highlighting the "devastating impact on those whose lives are touched by modern slavery".
"The Police Service of Northern Ireland will play its full part in working with a range of groups and agencies in the drive to tackle modern slavery," he said.
"This abhorrent crime results in some of the most vulnerable in our global society being exploited in the most horrific circumstances."