Further charges for convicted Coleraine wedding DJ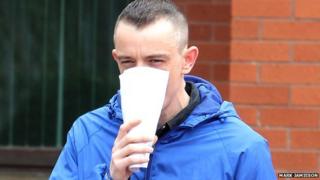 A DJ who cancelled bookings on the morning of weddings by falsely claiming his father had died is to face extra charges, his solicitor has said.
Michael Stockman, of Knockantern Green, Coleraine, County Londonderry, was found guilty of theft in January 2014.
He took £800 from six customers before weddings or parties.
In all cases he failed to turn up, often sending his unwitting victims texts at short notice.
After Stockman's solicitor told the court his client faced additional charges, the district judge agreed to a delay in sentencing until September 2014.
During the trial, the Trading Standards Authorities (TSA) had said in a statement that Stockman "promised to deliver a service and failed to do this".
"His excuse for cancelling on four different occasions between the start of August 2012 and end of September that year was that his father had died the previous day or morning," the TSA said.
"Stockman continued to make bookings and take payments from his victims."
The businessman, who traded as North West Discos, was found guilty of nine theft offences.