Alasdair McDonnell to be investigated over 'serious data breach'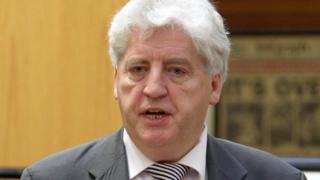 An investigation has been launched into a "serious data breach" after medical files were found by children at a former health centre owned by SDLP leader Alasdair McDonnell.
The sensitive information was found after the centre on the Ormeau Road in Belfast was demolished, the Irish News has reported.
It included names, addresses and medical treatment of patients.
Dr McDonnell said he was "sincerely sorry for any anxiety or upset caused".
The demolished buildings included a health centre and two doctor's surgeries, including that of Dr McDonnell.
The assistant information commissioner for Northern Ireland confirmed there would be a full investigation.
Dr Ken McDonald said it was "one of the more serious incidents" in recent times.
He added: "It's reminiscent of the Belvoir Park Hospital breach that we had a few years ago, although on a much, much smaller scale.
"Patients medical records that were no longer required have been disposed of in a very insecure manner, it appears.
"Obviously we're going to be undertaking a full investigation into this but when Dr McDonnell left the practice, he should have been passing them to the new GP responsible for the patients.
"On the face of it, it should have been the practice staff that had the responsibility for making sure all records were removed prior to their removal from the building itself.
"The fact that the housing association were demolishing the site, I would think, is largely irrelevant. It has to go back to the doctors and the practice."
'Horrified'
The information was discovered after the health centre was demolished in order for social housing to be built on the site.
It was also reported that SDLP election documents were found at the former health centre.
DUP MLA Jim Wells, who is vice-chairman of the Northern Ireland Assembly's health committee, said he was "horrified" by the news.
"Some of the notes related to a patient who sadly had a miscarriage. I'm certain that the lady involved would be incredibly annoyed if such personal details fell into the wrong hands.
"People expect the health service to treat their data in a professional manner. Identity theft is rife throughout the world and a data breach like this would be a crime ring's dream.
"It is alarming that this former GP practice, which was part owned by Alasdair McDonnell, seemed to have electoral data in it as well."
'Responsibility'
"Dr McDonnell should immediately refer himself to the Northern Ireland Assembly's Commissioner for Standards and ask for a full investigation of this serious situation.
"This will bring to light whether there have been any breaches on the part of Dr McDonnell. Failure for Dr McDonnell to take such a step will undoubtedly lead to someone else lodging a complaint with the standards and privileges committee."
In a statement, Dr McDonnell said: "It would appear that the building that my former practice shared with other health trust staff and which my former practice left in 2005 was not fully cleared out by Clanmil Housing Association, who are currently demolishing the site.
"The medical practice, of which I was a part, had a responsibility to our patients to ensure that every piece of information was securely transferred to our new premises.
"I know that at the time those involved in the move believed that they had fulfilled this duty.
"As soon as I was made aware, I informed the practice head of the medical practice, from which I retired in 2009, who moved immediately to get a confidential shredding company on site to ensure that all papers are removed and disposed of without delay.
"I have also contacted Clanmil Housing Association to inform them that the site is not secure and that this presents a health and safety risk."
However, Clanmil Housing Association have denied that any documents were found on their site and said they were found at the adjacent doctor's surgery that is being demolished.
"On 11 April, control of the site was passed to our contractor. Demolition of the building that formerly occupied the site commenced in June and our contractor has informed us that at no stage in the demolition were medical records found.
"We understand that the adjoining doctor's surgery at 142 Ormeau Road, which is adjacent to our site, and which is not owned by us, is currently being demolished."