Bank of Ireland makes £259m pre-tax profit in first half of 2014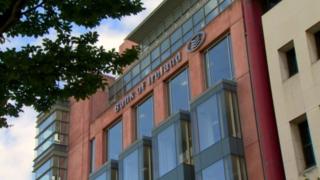 Bank of Ireland has announced it has made a pre-tax profit of 327m euros (£259m) over the past six months.
The bank also said its Northern Ireland business is now profitable again, after it was restructured last year.
It was the last of Northern Ireland's "big four" banks to release its half year results within the last few days.
All four - Danske Bank, Ulster Bank, First Trust and Bank of Ireland - are now back in the black following years of heavy losses.
Bank of Ireland was the only major Irish bank to escape full nationalisation during the Irish banking crisis.
Its latest half year results represented a 700m euros (£555m) improvement in its performance, compared to the first six months of 2013.
Bank of Ireland UK, which includes Northern Ireland and a joint venture with the Post Office, made a profit of £46m.
That compares to a loss of £97m in same period of 2013.
Announcing the latest figures, Bank of Ireland's group chief executive officer, Richie Boucher, said: "We have continued to make good progress against our strategic objectives in the first half of 2014. We are profitable and generating capital.
"In Ireland, we continue to support and benefit from the accelerating economic recovery; our new lending in 2014 makes us the largest lender to the Irish economy.
"The favourable economic outlook and the strength of and momentum in our Irish and international businesses gives us confidence in our ability to deliver attractive and sustainable returns for our shareholders," Mr Boucher added.
On Thursday, Bank of Ireland issued an apology to its customers over delayed payments, which affected some salary payments in the Republic of Ireland.
The problem resulted in about 100,000 people, including police officers, teachers, and civil servants, not receiving their pay on time.
In a statement, the bank's press office said: "This delay only affected one file and the majority of Bank of Ireland payments processed in a timely manner.
"The bank apologies profusely to those customers affected and wishes to reassure them that the credits will be in their account by first thing tomorrow (Friday) morning."