Half of Northern Ireland residents have tablet computer says Ofcom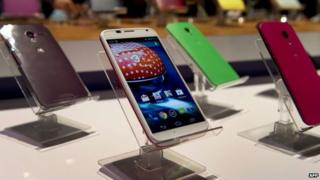 Almost half of households in Northern Ireland now have a tablet computer compared to just 2% in 2011, according to research by Ofcom, the communications regulator.
Its annual market report suggests 45% of households have devices like an Apple iPad or Samsung Galaxy.
NI, along with Wales, has the highest rate of tablet ownership in the UK.
The research also suggests that more than half of adults in NI use a smart phone compared to 21% in 2011.
E-readers are also still growing in popularity despite the rise of tablets and smart phones.
The research suggests that 20% of adults use an e-reader, up 8% over the year.
However, internet users in Northern Ireland claim to spend significantly less time online than the UK average.
Internet users in Northern Ireland say they are online for 13.8 hours a week compared to the UK average of 16.9 hours.
The report also says there has been "a marked improvement" in the availability of 3G mobile phone coverage in the last year following investment by mobile operators.
It shows that 82% of premises in Northern Ireland now have 3G coverage from all four national 3G networks, up from 62% in 2013.
James Stinson, regulatory affairs manager at Ofcom Northern Ireland, said this was a "noticeable and welcome improvement".
The report also shows that the share of TV viewing devoted to the five main public service channels (BBC 1 & 2, ITV, C4 & C5) dipped below 50% for the first time.
Those five channels had a 49% share, a decrease of 3% on 2012, driven by declines in viewing for BBC 2, Channel 4 and Channel 5.
London is the only other part of the UK where those five channels have less than a 50% share.