Belfast City Hall peace vigil for those suffering in conflicts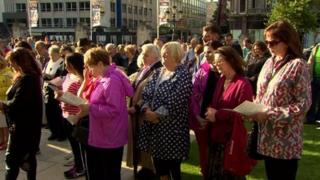 Several hundred people have attended a prayers for peace vigil at Belfast City Hall.
Prayers are being said by representatives of churches from across the world, including the Jewish and Muslim faiths.
Lord Mayor Nichola Mallon called for peace in countries across the Middle East and other war torn areas of the world.
Belfast City councillors from across the political divide also attended.
One group holding a Palestinian flag stood outside the gates, but were unable to get into the grounds.
It was organised by the lord mayor.
Ms Mallon said the vigil was "about people coming together in a humanitarian appeal to end this suffering and conflict".
"Like everyone in Belfast and beyond, I am deeply moved and distressed by the suffering of all victims of the conflict in Gaza, in Syria, in Iraq, across the Middle East and world. I believe that as a city we cannot stand idly by in the face of such inhumanity," Ms Mallon said.
"This is a multi-denominational vigil offering people the opportunity to show solidarity with all of those suffering and to pray for peace in Gaza, across the Middle East and the wider world. It is open to everyone - those of all faiths and none.
"There are conflicts all over the world and each is a demonstration of man's inhumanity to man. Some are captured and brought to the world's attention.
"Many others are not, or are captured for only a fleeting moment before they are replaced by another news item."
The vigil was held on the second day of a 72-hour truce in Gaza, the longest lull in fighting since the conflict began on 8 July.
More than 1,900 lives have been lost since the conflict began in Gaza four weeks ago.
Indirect talks between Israeli and Palestinian representatives have been taking place in the Egyptian capital Cairo.