Police arrest man over Belfast aerosol explosion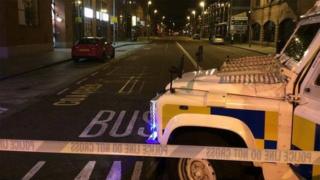 Police investigating a small explosion in Belfast city centre on Tuesday have arrested a man.
A police spokesman said the 47-year-old man had been arrested "on suspicion of a criminal damage related offence" in the Chichester Street/ Victoria Street area.
On Tuesday, police said the explosion was caused by an aerosol can set alight inside a rucksack.
No-one was injured in the incident.