Farry to meet university over halt to Magee expansion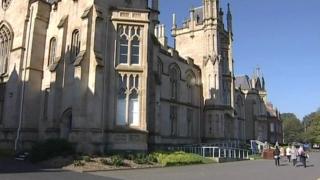 Employment and Learning Minister Stephen Farry is to meet University of Ulster representatives on Thursday to discuss the future of its Magee campus.
Last Friday, Mr Farry announced that a long-awaited expansion of the Londonderry campus was "off the table" because of budget cuts.
The minister said his department faced cuts of £34m.
Prof Deirdre Heenan, the university's pro vice-chancellor, said she expected "a full and frank discussion".
"We'll be largely talking to the minister about our budget," she said.
A Department for Employment and Learning spokesperson confirmed that, "the minister intends to meet with the University of Ulster this week to discuss budget cuts and a range of related issues including Magee."
Stephen Farry's announcement was criticised by Derry representatives of Sinn Féin and the SDLP.
He is also to meet a Sinn Féin delegation on Thursday.
The party's Foyle MLA, Maeve McLaughlin, called for the minister to retract his statement.
A business case for the project is due for publication in September.
"He was vetoing something he hasn't even received," Ms McLaughlin said.
In July, planning permission was granted for an £11m extension to the Magee campus.
The plans included increased teaching facilities, a large lecture theatre, 20 classrooms and a cafe.