Grey Point Fort NIEA temporary staff cuts timing 'crazy'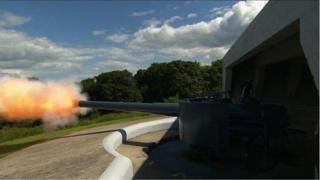 Laying off some temporary staff at a military fort that has just marked the centenary of the outbreak of WW1 is "crazy", a volunteer has said.
The Northern Ireland Environment Agency (NIEA) is laying off some seasonal workers as a result of budget cuts.
One of the historic sites it maintains is Grey Point Fort, in north Down.
"It seems crazy to me to cut back now, precisely when there's more interest than ever," said Robin Masefield of Friends of Grey Point Fort.
"We had a great number of people down on 4 August to mark the declaration of World War One, and the numbers have certainly held up subsequently."
Originally built in 1904, it played a major role in the defence of Belfast Lough during World War Two, when it was the operations headquarters for Northern Ireland's coastal defences.
The local historian is one of a group of volunteers who help out at the fort, which he said was "the best preserved coastal battery in the UK".
"We and the Grey Point Fort Amateur Radio Society have worked in partnership with Environment Agency to promote the fort - we've doubled the visitor numbers in recent years to 15,000 a year," he said.
The NIEA, funded by the Department of the Environment, is responsible for maintaining a number of historic sites, water quality, waste and other environmental issues.
The jobs are seasonal posts and it it is understood permanent positions are not affected. It is not yet known how many jobs are going.
Mr Masefield said the uncertainty over how many posts were being lost was "frustrating".
"We have no official information on the impact upon the fort or Crawfordsburn Country Park, which it forms a part of," he said.
"There are suggestions that it will impact on the hours that the fort is open, and indeed possibly on the country park as well."
A NIEA spokeswoman said: "Owing to the recent executive decision to cut budgets, the Northern Ireland Environment Agency has had no choice but to release a number of temporary agency staff earlier than planned.
"The majority of these temporary staff were taken on for the summer months at a number of the NIEA visitor attractions.
"However, the NIEA is putting in place contingency measures to maintain service levels as much as practicable at these visitor facilities. This should allow the people of Northern Ireland and tourists to continue to enjoy them over the remaining peak period."
The news comes after a series of Stormont departments had their budgets cut in the June monitoring round.
Last week, Roads Minister Danny Kennedy revealed he has had to stop approving some new work for road maintenance, grass cutting and gully emptying.