Cardinal Séan Brady offers pope his resignation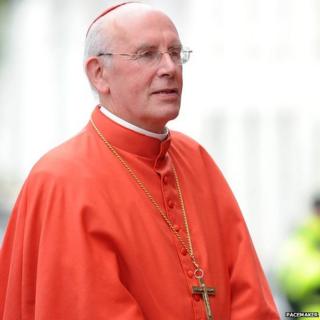 The leader of the Catholic Church in Ireland, Cardinal Séan Brady, has offered his resignation to the pope.
Dr Brady, who has been the leader of Ireland's Catholics for 18 years, confirmed that he offered his resignation to Pope Francis last month.
All cardinals are obliged to offer to resign when they reach 75 birthday, but the pope decides whether to accept it.
His tenure has been beset by clerical child sex abuse scandals and claims that he helped to cover up one case.
Cardinal Brady said on Friday he looked forward to his resignation being accepted.
In a statement, he said: "Last month I offered my resignation to Pope Francis in accordance with the requirement of Canon Law.
"I did so in anticipation of my 75th birthday which I will celebrate tomorrow.
"On 18 January 2013 Pope Benedict XVI acceded to my request for episcopal support and Archbishop Eamon Martin was appointed as coadjutor archbishop of Armagh.
Abused
"This means that as soon as Pope Francis accepts my resignation, Archbishop Eamon will become Archbishop of Armagh and Primate of All Ireland."
Cardinal Brady resisted calls to resign in 2010, when it emerged that when he was a young priest in 1975, he attended meetings during which two teenage sex abuse victims were sworn to secrecy after they alleged they had been abused by Fr Brendan Smyth.
Smyth, who was later convicted of more than 100 charges of child sexual abuse, died in prison in 1997.
However, instead of going to the civil authorities about the teenagers' allegations against him in 1975, clerics including Séan Brady, took evidence from the pair and asked them to sign vows of silence.
Cardinal Brady apologised publicly for his role in mishandling the claims against Fr Smyth, and described himself as a "wounded healer" who would, in future, prioritise the safety of children in the church.
However, in 2012, a BBC investigation in the case revealed that Dr Brady had failed to ensure the safety of other victims of Fr Brendan Smyth, despite being given their names and addresses by one of the two teenagers who had reported the abuse in 1975.
In his response to the BBC investigation, Cardinal Brady said he had been asked by his then bishop to record the allegations, and described his role as merely that of a "note taker".
'Stepping aside'
Cardinal Brady added that as a priest in 1975 he had "absolutely no authority over Brendan Smyth" and was "shocked, appalled and outraged" when he discovered in the mid-1990s that Brendan Smyth had gone on to abuse others.
He apologised to one of the abused teenagers in May 2012, but said he had no intention of stepping aside.
In addition to his own personal difficulties, the cardinal has presided over the church at a time of immense and turbulent change, with falling church attendances, dwindling ordinations and strained relations between the church and state authorities.
A series of government-backed inquiries in the Republic of Ireland, including the Ferns Report, the Ryan Report and the Murphy report, laid bare the extent of clerical child abuse over many decades.
Public outrage at the abuse was compounded by evidence of church authorities' attempts to cover it up to protect the reputation of the institution.
The cardinal was born on 16 August 1939 near Laragh, County Cavan, in the Republic of Ireland.
Christened as John B Brady, he attended St Patrick's College in Cavan before entering the seminary at Maynooth, County Kildare.
After his ordination in 1964, he returned to Cavan to teach in his old school, and acted as a part-time secretary to the Bishop of Kilmore, the late Bishop Francis McKiernan.
Earmarked
It was in this secretarial role that the then Fr Brady was asked to record the teenagers' allegations against Fr Smyth.
He moved to Italy in 1980, were he was appointed vice-rector and later rector of the Irish College in Rome, before returning to Ireland to work as a parish priest in Cavan.
In February 1995, he was ordained coadjutor (assistant) Archbishop of Armagh, a post given to the man earmarked to succeed the leader of the Catholic Church in Ireland.
Following the retirement Cardinal Cahal Daly, Séan Brady became archbishop of Armagh and primate of all Ireland in October 1996.
He was created a cardinal in November 2007.