Ulsterbus and Metro bus drivers balloted over strike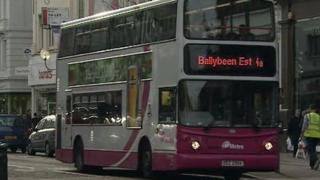 Ulsterbus and Metro bus drivers are to be balloted over plans to take strike action over pay.
Translink's offer of a 1% pay increase has been withdrawn due to cuts to public transport funding.
The Department for Regional Development (DRD), which controls Translink's budget, is facing cuts worth £15m.
Unite and GMB union members will be asked to vote on a graduated response, beginning with an overtime ban or one to two hour stoppages per day or week.
In the Northern Ireland Assembly's June monitoring round, it was agreed that Stormont departments, excluding health and education, would have their budgets cut by £78m.
The Assembly is being penalised by the Treasury for not endorsing welfare reforms passed by Westminster in February 2013.
Further cuts, amounting to £87m, will be required if a deal on welfare reform is not agreed, the finance minister has said.
Sinn Féin has led the opposition to the welfare reforms.
DRD Minister Danny Kennedy warned that street lights across Northern Ireland could be out over winter as a result of the £15m cuts to his department.
Following a joint Unite-GMB meeting of shop-stewards, both unions agreed to proceed to a consultative ballot of their Ulsterbus and Metro membership on industrial action.
'Deadlock'
Unite's regional industrial organiser, Davy McMurray, said: "Throughout the delayed pay discussions, Translink has referred union representatives to the UK government's one per cent pay offer to public sector workers.
"At the last meeting, they stated that they could not even offer drivers that increase as a result of the uncertainty arising from the deadlock in the Northern Ireland Executive over agreeing a budget.
"Both Unite and GMB agree that they now have no option but to record failure to agree and to inform the company that we will be proceeding to a consultative ballot of our members on industrial action."
Mr McMurray said the unions were seeking an urgent meeting with Mr Kennedy to raise their concerns.