Emergency department human rights inquiry under way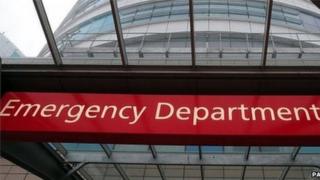 The Human Rights Commission inquiry into emergency health care in Northern Ireland has held its first day of hearings.
The health minister and the chief medical officer gave evidence.
The inquiry is investigating whether patients who encountered problems in their emergency department had their human rights violated.
It is the first time such an inquiry has been held in Northern Ireland.
In her first public appearance, the newly appointed chief executive of the Health and Social Care Board, Valerie Watts, was also due to take questions.
These more formal appearances from health officials will be mixed with real life experiences from members of the public.
Staff, including nurse managers, will paint a picture of life on the wards.
One patient who gave evidence told the BBC that her account would "be frank and honest".
"I will tell it how it was and how it left me. The standard of care was appalling," she said.
"The pressure on staff was enormous - I felt I was going to die."
Deirdre Dougal gave evidence on Thursday afternoon.
She said she had decided to give a submission to the commission after having "quite a poor experience" at the Royal Victoria Hospital's A&E department in Belfast in January.
'Complex conditions'
"I was moved from ward to ward," she said.
"Nobody seemed to know who was my consultant, who was in charge of me and that is because I have very complex medical conditions that all inter-link with each other, but at this stage you could expect that the NHS would be able to deal with that."
Mrs Dougal said she hoped that by telling her story, others would come forward.
"This is the first time in my life that I have ever spoken out about anything," she said.
"I want to encourage every single person out there to come to this inquiry when it goes around the country and tell because until patients who have actually received this sort of treatment or whose relatives have received this type of treatment, nothing is going to change."
Unlike other inquiries, this will be held in the less formal setting of the Youth Action building at Belfast's College Square North.
While it is an informal setting, according to the inquiry's staff, the less adversarial backdrop does not mean it will not be tough in seeking the truth.
Its overall aim is to examine how the system of emergency health care in Northern Ireland respects, protects and fulfils human rights, focusing particularly on the right to health.
According to the chief commissioner, Les Allamby, it will assess if the system is working.
"Some of the people who have contacted us had a very good experience and recognise that staff are very dedicated and work very hard," he said.
"Others have had a very poor experience, therefore we want to reflect properly good practice and also where things have gone wrong."
Prior to public meetings getting under way, the team has been making "visits of observation" to at least one emergency department in every health trust.
It also examined practices at minor injury units in Downpatrick and Bangor.
"We witnessed the patient journey from when they went through the front door to the reception area, triage until they were seen by medical staff," Mr Allamby said.
'Questions'
Describing the visits as invaluable he acknowledged seeing the good and the bad, including staff running out of blankets, to patients being seen in extremely cramped conditions.
"This is not an ambush, but we do expect to ask questions about how the budget is being managed," he said.
Public hearings will continue across Northern Ireland until the end of October.
Among those asking questions will be a former UN Special Rapporteur on the Right to Health, Prof Paul Hunt.