Five Northern Ireland Executive ministers back Shankill plan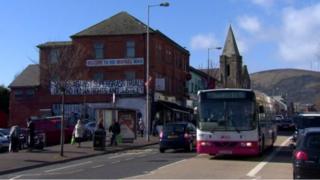 A 20-year plan to improve education in the area with the worst attainment record in Belfast has been backed by five executive ministers.
The proposal is for a programme to create an educational zone for children and young people in the Shankill area.
The ministers for health, education, justice, culture and social development have agreed to back the plan.
It follows a meeting with community representatives from the Shankill on Thursday afternoon.
The plan proposes government departments working together in the long-term to improve the prospects of young people.
The aim is to support not only children but also parents to help them succeed.
Jackie Redpath of the Greater Shankill Partnership said there has been "initiative piled on initiative" but they have been too short-term.
His plan is for a zone that tackles all areas of young people's lives and that lasts for a generation.
Mr Redpath said: "This problem dates back 40 years and it is not going to be solved in one year."
On Thursday, Education Minister John O'Dowd said: "I want to take this opportunity to congratulate the Greater Shankill Community Convention for their commitment to improving outcomes and life chances for children and young people in their local area.
"Your ambition is inspirational.
"I am totally committed to targeting resources to wherever they are needed most."