School computer tablets: Who foots the bill?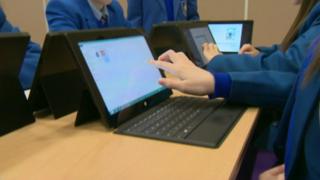 More and more schools in Northern Ireland are telling parents computer tablets are essential for their children's education, but who has to pay for them?
Education authorities say they are not in favour of schools passing on large bills to parents already finding it difficult to pay for stationery, uniforms and PE gear.
However, some schools insist the computer tablets, including iPads, are essential for learning.
They can cost around £400 each and schools are offering payment plans over a number of years for those who do not want to pay it all at once.
However, two schools in Londonderry have chosen another route.
St Mary's College has 43% of pupils entitled to free school meals.
The school has now spent £90,000 kitting out every pupil in the first three forms with computer tablets.
Principal Marie Lindsay said: "We planned this over four years and we expect savings in the amount of photocopying which normally goes on.
"It won't cover the cost but we are convinced both the learning and the technological skills of the children will improve."
New hardware
Just across the city, St Columb's College has decided to subsidise the purchase of tablets for its first year pupils.
Two hundred and twenty four boys have collected their new hardware, the first batch to be issued in the school.
Maryjo O'Carolan, the head of IT, said: "Our school has 20% entitled to free school meals, that's a high proportion for a grammar school.
"Our board of governors contributes around 60% of the cost of more than £450."
Parents pay £200.
"We have had no complaints from parents, in fact some are so pleased they are ordering a second one," Mrs O'Carolan said.
St Mary's pupils are not allowed to take their tablets home, although the school is considering allowing that. The machines are kept in school and charged up overnight.
The children of St Columb's - who own their tablets - take them home and can do their homework on them.
There are strict rules however and children must not photograph each other in school unless instructed by a teacher.
They are also told they must not load games or apps at home. The school said it closely monitors the safety of the tablets' use.