NI's economy has slowed down but 'remains on track', according to Ulster Bank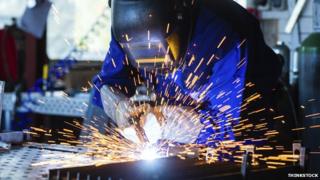 The recovery of Northern Ireland's private sector has slowed down but "remains on track", according to data provided by the Ulster Bank.
It said in August, firms had their 14th successive month of growth in orders, output and employment.
But its chief economist Richard Ramsey said the pace of the recovery had slipped to its "weakest" since March.
The bank's assessment is based on a Purchasing Managers Index (PMI).
It is a monthly survey of a panel of firms that tracks indicators such as new orders, employment and exports.
According to the bank however, the accelerated expansion of the British and Irish economies "bodes well for local businesses in the months ahead".
Mr Ramsey said the moderation of growth in Northern Ireland needed to be put into context.
"Private sector firms were still experiencing faster rates of growth in business activity, new orders and employment in August than the pre-credit crunch long-term average," he said.
"As the recovery continues, growth rates are anticipated to moderate to more normal levels."
The manufacturing sector performed best in August.