Naomi Long: Girls were abused by security forces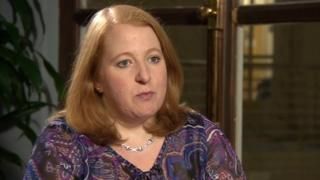 The authorities have been urged to investigate claims that girls in care homes were abused by members of the security forces.
The abuse is claimed to have taken place in several homes in Northern Ireland in the 1970s.
East Belfast Alliance MP Naomi Long said she had been approached by a number of women.
Ms Long has called for the Kincora scandal to be included in a Westminster historic child abuse inquiry.
"A number of people have since approached me, particularly a group of women who claimed that they were abused whilst in care," she said.
'Security forces'
"But more than that, when they absconded from care, during the time when they were in care, they were further abused by members of the security forces and also by the police who were really charged with returning them to care but instead took advantage of that situation.
"I think what it says is that there are serious issues in terms of child protection that were breached at that point in time that really need to be looked at in a more in-depth way that has been the case to date."
Three senior care staff at Kincora Boys' Home in east Belfast were jailed in 1981 for abusing 11 boys in their care.