NICVA says fewer people in Northern Ireland give to charity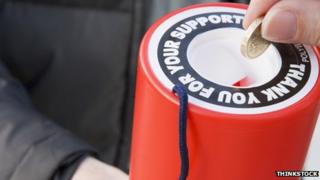 Fewer people in Northern Ireland are giving to charity, according to new research.
It suggests the number of people donating to good causes has declined significantly over the past year.
The survey was carried out for the Northern Ireland Council for Voluntary Action (NICVA).
Just over half (56%) of those surveyed made a donation in the previous four weeks compared to 73% in the same period in 2013 - a fall of 17%.
The research found people across all age groups were giving less, with the sharpest decline among 16-24 years.
A continuing trend in the research is that women are more likely to donate than men.
The research also suggests that people living in Belfast and County Armagh were the most likely to donate while fewer people in Tyrone and Fermanagh gave to charity.