Strabane suspicious object was 'elaborate hoax'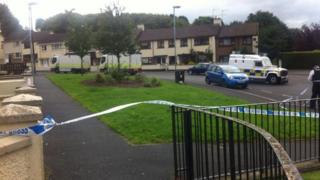 Police have said a suspicious object found in Strabane, County Tyrone, was an elaborate hoax.
A number of residents had to leave their homes in Innisfree Gardens while Army bomb experts carried out an examination.
Ch Insp Andy Lemon said it had caused disruption to the local community.
"During this incident a number of residents, including some elderly people, had to be evacuated from their homes," he said.
"Incidents such as this cause distress and anxiety to those affected by it. I would condemn the actions of those responsible.
"I would also like to thank local residents for their assistance, patience and understanding during this alert."
SDLP councillor Patsy Kelly condemned those responsible and said people were "totally fed up" as there had been several occasions where alerts had caused disruption in the area.
He said those responsible were tarnishing the good name of the area.
"It boggles the mind to think what would have happened if a child had come across this device," he said.
'Inconvenience'
"Thankfully, nobody was injured."
Gina Devine was one of the residents who had to leave their homes.
"The area is made up of young families and elderly and this is a real inconvenience for the local residents," she said.
"The cordon has been moved several times, it has been widened a bit more.
"I'm angry and disappointed that this is what we've come to, and as I said previously, there's a lot of elderly and young families in the area and this is the last thing people need on a Sunday morning."