Parties react to Peter Robinson's Stormont article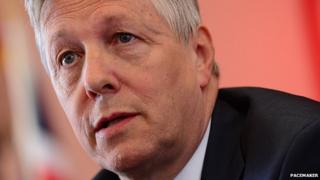 Northern Ireland's political parties have been giving their reaction to First Minister Peter Robinson's comments that arrangements for devolved government at Stormont "are no longer fit for purpose.
Writing in the Belfast Telegraph on Tuesday, the DUP leader said the 2006 St Andrews Agreement had led to a system that was "time-consuming and sluggish"
Sinn Féin Deputy First Minister Martin McGuinness said: "We all have a responsibility to work together, but in the first place the first minister should talk to me and to his executive colleagues."
Alasdair McDonnell, SDLP leader
"Our strong advice to Dublin and London is move now, move decisively, move to all-party, two government talks.
"This current crisis is a manifestation of an ongoing deterioration of the workings of the executive between the first and deputy first ministers. The first minister has much audacity in walking away from one set of talks and now calling for another set of talks.
"All of the issues must be discussed, not merely the issues the DUP want to discuss.
"This an abject admission of failure on behalf of the first minister. This was the same first minister who said that the success of the assembly would be judged on delivery."
Mike Nesbitt, Ulster Unionist Party leader
"I welcome Peter Robinson's light bulb moment. It is far from the first time the DUP have pitched their tent on our ground.
"Stormont is dysfunctional, but we need to look at why. The answer is clear. The DUP did a bad deal at St Andrews. The very things Peter Robinson is complaining about are products of St Andrews, which introduced the blocking mechanisms that have led to this stalemate.
"Peter Robinson and Martin McGuinness adopted an 'Ourselves Alone' attitude to government. Now they have fallen out, the carve-up has become a face-off. The fix is a fairer deal.
"A system of government that does not offer the electorate the ability to change who governs them is not proper democracy."
Jim Allister, Traditional Unionist Voice leader
"For years hasn't Peter Robinson boasted that at St Andrews he and his party fixed the Belfast Agreement. Now, it seems not. Is the reality that TUV has long proclaimed slowly dawning on the first minister?
"But it is not a sticking plaster approach which Stormont needs, but root and branch change, whereby mandatory coalition and its crippling mutual vetoes are ditched.
"It is inevitable that one day the present unworkable Stormont will implode. The system of mandatory coalition is bound to fail. Only the glue of parties' love for a semblance of power holds it together.
"But, ultimately this unnatural system of government will collapse. Voluntary coalition and an opposition are the only route to durable devolution."
David McNarry, UKIP assembly member
"The DUP are embroiled in internal turmoil, Sinn Féin are controlled from Dublin, the UUP remain in freefall alongside the SDLP, and Alliance are in electoral meltdown.
"The executive is a shambles. All five coalition hangers-on show no sign of recoupling themselves.
"They represent partners in a sham executive, out of touch and increasingly out of favour with the public.
"UKIP suggest that the executive give themselves six more months in office to improve their delivery of government - with failure to restore confidence resulting with an assembly poll taking place on the same day as next year's Westminster election."