GAA coach Gerald Moane jailed for VAT fraud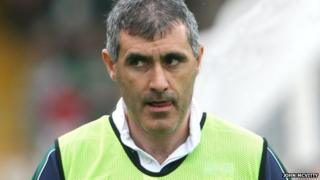 A GAA coach in County Fermanagh has been jailed for 16 months for a VAT fraud that cost Revenue and Customs £766,000.
Gerald Moane, 47, Teigeshill Road, Fivemiletown, County Tyrone, admitted 21 charges of submitting false returns and one of acquiring criminal property.
He had claimed he was under pressure from loyalist paramilitaries to pay protection money.
He submitted false invoices related to 31 businesses to claim VAT refunds.
He claimed that the invoices had been prepared by loyalist paramilitaries, and when paid, he was forced to hand over cash.
However this version of events was not accepted by the prosecution.
Mr Moane pleaded guilty to the charges and did not contest them on the grounds that he was acting under duress.
'Community deprived'
The judge said it pained her to sentence him to prison.
"It is a shame a man of your character is before this court, but I cannot ignore the long period of criminal behaviour," she said.
In relation to Moane's claim that he had been under pressure from loyalist paramilitaries, the judge said she could not accept or act on his allegations as they had never formed any part of his defence case.
She also said while he was highly respected in the community and loved and cherished by his wife and family she had to temper mercy with justice and justice with mercy.
The judge said that revenue fraud is a serious crime, and the money lost is something of which the whole community is deprived.
She said he had submitted many false VAT invoices involving a degree of professionalism and was well planned and fraudulent from the outset.
The court was told that Mr Moane has no money to repay the amount that was lost.
Moane was also given 20 months on licence.
The father-of-six had been in the running for the job of Fermanagh county manager when Peter Canavan was appointed in 2012, and is also a former manager of Tyrone ladies GAA team.