Scottish independence: Ulster Unionists help offer rejected by Better Together
An Ulster Unionist has said the party's offer to help in the Scottish referendum was rejected by the Better Together campaign.
Mark Cosgrove said the approach was made two years ago.
Now, with the opinion polls so close, he said it was still not too late for unionists to make their voices heard.
"I think on the Better Together issue it was made clear to us that their English and Welsh colleagues had also asked the same question," he said.
He made the comments on the BBC One programme, The View, on Thursday.
"As we agree, it is a matter for the Scottish people - as it is their sovereign decision to make - that it would be better for Scottish people to be in the middle of whatever debates were going to happen and not other colleagues and friends from the rest of the kingdom," he said.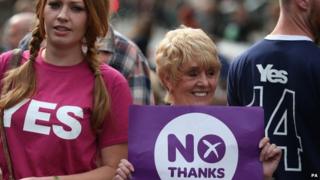 However, he said, he believed they still had a role to play.
"I'm a unionist with a large 'U' not a little Ulsterman, and I would hope that any conversations that may take place or any media that Northern Ireland unionists may do, gives the very clear and unequivocal response that in a non-sectarian, fully embracive way we want to see you stay as part of the United Kingdom," he said.
"That your economic future and that of your children; the future of the national health service, jobs, wealth creation - all of those things - are at stake here and I can't believe that we're as close as the polls are saying, given the strength of the pro-union argument."
Sinn Féin have also largely kept out of the debate.
The party's former publicity director Danny Morrison told the programme the party did not want to give "ammunition" to unionists in Scotland and the rest of the United Kingdom.
He also said that Sinn Féin, which has called for a border poll in Northern Ireland, still has a lot of work to do, if it is to persuade unionists to vote for reunification.
"I think in a vote here, still, the majority would be against unification, that's why I think there's a whole lot of work to be done both politically, socially and economically," he said.
"The republicans have to argue the case and win over a section, a proportion of the unionist community."
The View is on BBC One at 22:40 BST.