Ian Paisley and the press: The banter and the bashing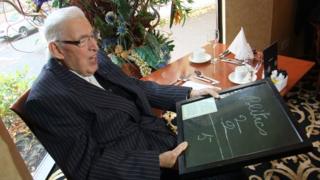 The last time I interviewed Ian Paisley, I could not get him to stop talking.
Eventually his son, Ian Paisley Jnr, had to intervene to stop the conversation.
What had got him so exercised?
The threat to the United Kingdom posed by Scottish nationalists.
Right to the end, he was obsessed with politics and the union.
"My mother was a Scots woman from Edinburgh, and I have a streak of Scots in me," he said, and went on to express his hope that Scotland would remain firmly within the UK.
Although his speeches often lasted more than an hour, Ian Paisley was the king of the loyalist sound-bite, from "No surrender" to "Not an inch".
Whisper
Even in his latter years, he always found the words to suit the occasion.
When he was handed a cricket bat to autograph on his final day at Stormont in March 2011, he declared: "I've had a good innings."
He then summed up his political life: "I've made good friends, and I've reconciled a lot of enemies too."
When we last talked, there was one thing missing - volume.
The distinctive Paisley boom had gone. His voice was weak. He sounded hoarse. The thunder had become a whisper.
Physically, he still looked relatively strong. But not strong enough to give one of his traditional back-slaps that once knocked me to the ground.
He hit me after one of our many difficult exchanges in the 1990s.
I was working for a Belfast newspaper at the time, and it was not his favourite newspaper, to say the least.
No matter what I asked, he prefaced almost every answer with a dig at the paper.
He usually did it with a smile. It wasn't personal. He castigated most media outlets.
Twenty years ago, at a news conference, I tried to ask him about why he had called the then Ulster Unionist leader, Jim Molyneaux, a "Judas".
I sensed he regretted using that biblical description, but he did not want to admit it. So instead, he answered by avoiding the question and bashing the press.
He was a master at not answering the question. But I kept asking.
On the way out of the news conference, I got a Paisley back-slap in recognition of my perseverance.
It was a friendly gesture, but it caught me off-balance and I did a somersault outside the door of DUP headquarters in east Belfast. We both saw the funny side.
In many ways, it summed up Paisley's relationship with the media. Aggressive one minute, genial the next.
Shouting, ranting and raving then suddenly laughing and joking. Sectarian rabble-rousing one day, asking about the welfare of a family member the next.
He enjoyed banter with journalists, even though he sometimes took it too far by referring to a reporter's religion or even their weight.
Bizarre though it may seem, given his austere image, but no politician enjoyed a laugh more than Ian Paisley.
After he recovered from a serious illness in 2004, I asked him about his political future.
"I'll still be going long after you've fallen away," he responded immediately, with a familiar smile.
There are two ways of remembering Ian Paisley - for the 40 years that he said 'no' to everything, or the latter years when he said 'yes'.
The media will remember both.
He was a major political figure in the last five decades.
Wherever he went, there was always news. Always.
Although he used to preach about avoiding temptation, he rarely resisted the lure of the microphone.
Like him or loathe him, reporters in Belfast will not forget him.
Never, never, never.