Ian Paisley: A part of the fabric of Northern Ireland's Troubles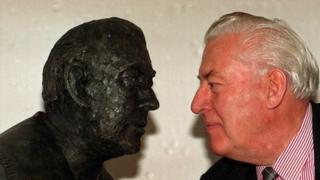 He was part of the fabric of Northern Ireland's Troubles - the bombs, the tit-for-tat sectarian murders, the nervous soldiers patrolling streets daubed with paramilitary murals.
Those grim TV images were so often interspersed with the angry words of a preacher turned politician.
Ian Paisley regularly railed at the prime minister of the day, told the Pope to his face he was an "anti-Christ".
His unionist supporters loved his rumbustious speeches.
His critics regarded them as intransigent and bigoted.
Up close he could be intimidating.
I recall several tirades and tellings off.
Yet he also had a quick sense of humour.
He famously disarmed one reporter in mid interview by alleging he had been drinking and demanding "let me smell your breath".
Contradictory contributions
During a news conference, when he thought one of my questions had been outdated by developments, he retorted "who are you, Rip Van Winkle?" implying I'd been sleeping on the job.
Historians will weigh his contradictory contributions.
The power-sharing arrangements he brought back to life seven years ago are in a shaky state today as his successors argue about everything from the legacy of the Troubles to how they should balance their budgets.
The future remains uncertain, but there's no doubt Northern Ireland would never have enjoyed its most recent period of peace and stability without Ian Paisley's belated yet remarkable political conversion.