Enhance the BBC Proms in the Park experience with a new app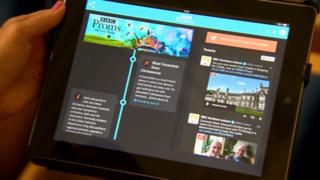 BBC Northern Ireland's new Proms in the Park web app delivers fascinating facts about the music as it happens at the BBC Proms in the Park concert at Belfast's Titanic Slipways on Saturday.
The app helps people to discover what inspired the composer to pen their magnum opus, answering questions from where the cor anglais is to what precisely is an aria.
It gives the chance to interact with the BBC, displaying the @BBCNIreland twitter feed and helping the user to get involved by sending in tweets and pictures.
The app provides specific information on composers and performers, and allows people to learn about the techniques employed during difficult musical passages, as they are performed.
The app can be accessed on any smartphone, tablet, laptop, desktop computer or internet-enabled device at http://promslive.bbc.co.uk.