Armagh: Alcohol seized from underage teenagers on 'formal' buses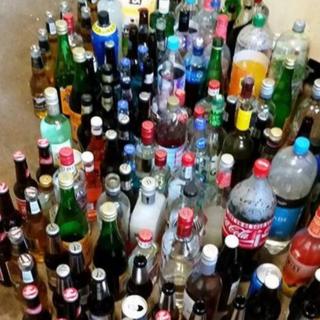 A large quantity of alcohol has been seized from seven buses in Keady, County Armagh, carrying mostly underage teenagers.
The alcohol - including bottled beers, wine and spirits - was removed from vehicles going to a party after a formal in the early hours of Saturday.
The PSNI said 131 items of alcohol had been removed and disposed of.
The police posted a photograph of the seizure on the PSNI's Armagh Facebook page.
Inspector Kieran Quinn said: "The vast majority of passengers were under 18 years of age and we confiscated a large quantity of alcohol."
He said that the PSNI understood the young people were heading "to an after formal party, possibly across the border".
'Duty to act'
Under the Confiscation of Alcohol (Young Persons) Act 1997, police have powers to confiscate alcohol from persons under 18 in public: refusal to hand it over can attract a fine of up to £500.
Insp Quinn added: "We do not want to ruin anyone's night out but where offences are detected we have a duty to take action.
"The fact is that young people need to be aware of the consequences of consuming large amounts of alcohol and that it is illegal to consume or purchase alcohol when you are under 18 years of age.
"Alcohol can affect your judgement and you can find yourself making decisions that you would never make in the cold, sober light of day.
"The consequences of these decisions can be long reaching and can affect your education, career and travel opportunities.
"Everyone has their part to play in educating our young people and making sure that children do not have access to alcohol."
He said the police would work with local schools, licensed premises and transport companies to re-iterate the message about alcohol.
He also urged parents to make them aware that it is not acceptable to drink alcohol before they are 18.