George Galloway: YouTube video 'put life in danger'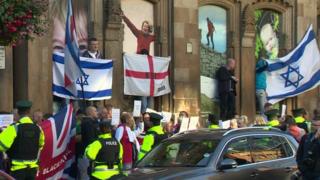 George Galloway has begun legal action over allegations made at a loyalist protest in Belfast.
He is seeking a High Court injunction against against prominent loyalist campaigner Willie Frazer and Google.
It is part of a wider claim that a YouTube video filmed by Mr Frazer outside a talk by Mr Galloway was defamatory and put his life in danger.
Mr Galloway claims sectarian and false remarks were made during last month's picket outside the Ulster Hall.
'Heightened tensions'
The picket was staged in protest at the Respect MP's remarks that Bradford had been "declared an Israel-free zone".
Among those protesting was Mr Frazer, who has been prominent in protests against Belfast City Council's decision to only fly the union flag on its city hall on designated days.
He has also campaigned on behalf of victims of IRA violence.
Mr Galloway said the online video constituted hate speech that significantly heightened tensions at the venue.
A judge at the High Court in Belfast was also told Mr Frazer was at the scene operating a camera to post an online video while the MP for Bradford West was inside the hall.
An application for a court order to stop any further material being published was adjourned to allow checks on whether Google has been put on notice.
Mr Frazer, who arrived in court without legal representation, has also been given time to decide whether he wants to instruct a lawyer.
In an affidavit lodged as part of his case, the MP claimed Mr Frazer used the opportunity to slander his name with a series of "vitriolic, abusive, sectarian and wholly untrue speeches", both directly to camera and by megaphone to gathered demonstrators.
'Foremost opponent'
He listed a series of allegations made about him, categorically denying them all.
They included claims of being scum/a scumbag, that he is a tramp, that he is anti-Protestant and supports those who behead British and American citizens.
Mr Galloway said in his statement: "I have been for many years Britain's foremost opponent of Islamic extremism."
He said he had specifically denounced Muslim jihadists ISIS, and said its filmed beheading of US journalist James Foley was "an evil and disgusting act".
Mr Galloway said while he supported freedom of speech and peaceful protest, Mr Frazer's comments had made him fell threatened, harassed and degraded.
He said he was attacked in London less than a week later.
The application was adjourned until next week.