North Belfast ban for hate crime accused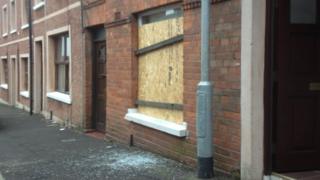 Two neighbours accused of a suspected hate crime on a Hungarian woman's home must not enter north Belfast, a judge ordered on Wednesday.
The restrictions were part of their bail conditions.
Windows at the front of the house on Broom Street in the Woodvale area were smashed on Monday.
A man and woman, who are originally from Hungary, were inside at the time.
They were not injured.
Thomas Johnston, 34, and Evelyn King, 50, both with addresses on Broom Street, were each charged with criminal damage and disorderly behaviour.
They appeared before Belfast Magistrates' Court.
A police officer who connected them to the alleged offences confirmed bail was not opposed on certain conditions.
As well as keeping out of north Belfast the two accused are to have no contact with the victim or each other.
A night-time curfew and alcohol ban was also imposed.
Although the district judge granted bail on those terms, both accused are expected to remain in custody until they secure addresses approved by police.
Mr Johnston and Ms King are due back in court on 15 October.