Go-ahead for £32m mental health unit in Belfast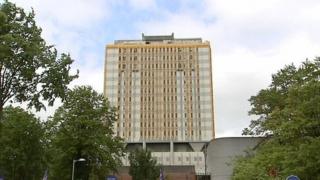 Planning permission has been granted for a new £32m mental health facility in Belfast.
The site will include a 74-bed acute mental health unit and a six-bed psychiatric intensive care unit.
It will centralise all acute mental health inpatient beds for the Belfast Trust on the Belfast City Hospital site.
The current completion date for the facility is June 2017.
The redevelopment involves the demolition of existing vacant hospital buildings, construction of a new mental health facility, car parking and re-alignment of access roads.
It will mainly replace outdated buildings and is the next stage in delivering a new "user-focused model of care, with inpatient services delivered in modern surroundings".
Health minister Edwin Poots said it represented a further key stage "in the development of this important and much needed project"
"This new state of the art facility, when complete, will make a real and lasting difference to the lives of many patients and families across Northern Ireland," he said.
'Dignity'
"One in four people in Northern Ireland will experience some form of mental ill-health in their lives and more needs to be done to tackle the issue.
"This new facility will help provide much more support, better services and treatment.
"Services that are more effective and more humane; treatments that help them avoid chronic disability and premature death; and support that gives them a life that is healthier and richer - a life lived with dignity."
'680 jobs'
Environment minister Mark H Durkan welcomed the decision.
"For the Belfast Health and Social Care Trust this development will create one centre that will rationalise and modernise the facilities in which acute inpatient mental health services are provided."
Belfast Health and Social Care Trust has estimated about 680 construction-related jobs will be generated during the lifetime of the build.