Tyrone woman accused of terrorist offences was 'used' by others, court hears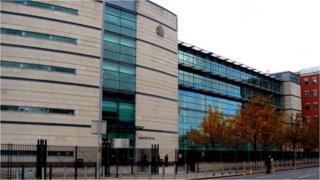 A court has heard that a Tyrone woman accused of terrorist offences was "used" by others.
Nuala Gormley, from Morgan Park, Dromore, is charged with possessing explosive substances and having articles useful to terrorists.
They were uncovered by police in the boot of her car at a service station on the Drum Road near Cookstown on 6 August last year.
The prosecution alleged she was knowingly in possession of the items.
Belfast Crown Court was told the items were concealed in an oil container restrained by netting.
Ms Gormley denies three charges, two of possessing the explosive substances, comprising electronic items, with intent and under suspicious circumstances, and one of having them for use in terrorism.
A prosecution lawyer told Belfast Crown Court that the items included two improvised remote control switching units, two aerials and an 'Erone' transmitter key which were intended for use as part of an improvised explosive device.
The court heard it was the prosecution case that when Gormley parked up her vehicle after getting fuel, she was "knowingly in possession of the items hidden in an oil container".
The prosecution also claimed there was "ample evidence", on a circumstantial case, that even if she did not know the exact nature or use of the articles, or had "turned a blind eye to their nature, she knew that she possessed explosive substances".
However, the court heard that that it was "not suggested that the defendant herself intended to use the articles, but the Crown case is that she was being used to pass the articles to another", and therefore guilty "on the second limb".
The prosecution detailed the use of the electronics, which, when combined with explosives would allow terrorists to "plant a bomb and detonate it remotely when a target" came near, which would "create a deadly hazard to the target, but provide complete protection for a perpetrator".
At the time Ms Gormley claimed she had gone to her sister's house, but she was not at home, so she decided to "scoot" about the back roads and had then gone to the service station before deciding to go to Cookstown to get something to eat.
However, the court was told it was the Crown case that the accused had failed to give a "credible explanation" for parking up at the station, and there was "the strong inference that she was waiting for someone, probably to transfer the items to that person".
It was also contended that it was "highly unlikely" that the electronics maker would have left them in the car "of an innocent person whose movements would be unknown", and who might, on discovering them, take them to police.