Peter Darragh Quinn: Nephew of ex-billionaire Sean Quinn made bankrupt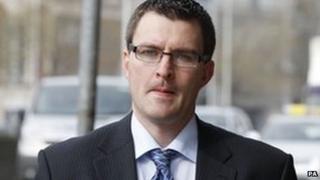 A nephew of the former billionaire industrialist Sean Quinn has been made bankrupt by a Northern Ireland court.
Peter Darragh Quinn was taken to court by the former Anglo Irish Bank, as part of its long dispute with the family.
Peter Quinn, from Lisbellaw in County Fermanagh, still faces arrest if he enters the Republic of Ireland after he failed to appear in court in July 2012.
He had been due to be sentenced for contempt, after a Dublin court ruled he put assets beyond the bank's reach.
'Richest man'
Anglo Irish Bank was brought to the brink of collapse during the banking crisis and it was bailed out by Irish taxpayers in a deal that caused widespread public anger.
The bank was later dissolved and its affairs were taken over by the Irish Bank Resolution Corporation (IBRC) - a body that was given the task of recovering assets on behalf of taxpayers.
IBRC claimed the bank was owed about £2bn by the family of Sean Quinn - who was once the richest man on the island of Ireland.
It began legal proceedings against several members of the County Fermanagh family in a bid to recover some of the money.
Prison
In June 2012, the High Court in Dublin ruled that Sean Quinn, his son Sean Quinn Jr and nephew Peter Darragh Quinn had put almost half a billion euros worth of assets beyond the reach of IBRC.
Both Sean Quinn and his son Sean Jr spent some months in prison in for disobeying the court orders, but Peter Darragh Quinn did not attend court for sentencing.
A warrant for Peter Quinn's arrest was issued by the authorities in the Republic of Ireland in July 2012, but it is believed that he is still living in Northern Ireland.
He cannot be extradited because it is a civil case, and is not a criminal matter.
'Unknown'
IBRC is now in liquidation, but its joint liquidators successfully applied for a bankruptcy order against Peter Quinn at a court in Belfast on 8 September.
The ruling will allow the liquidators to pursue his assets.
A notice of the bankruptcy was published in the Belfast Telegraph on Friday.
It listed Peter Darragh Quinn's address as Sessiagh East, Innishmore, in Lisbellaw.
His occupation was listed as "unknown".