Wedding DJ Michael Stockman given suspended sentence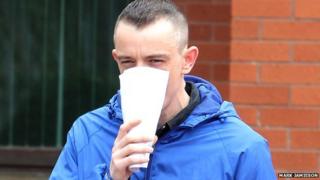 A wedding DJ who cancelled bookings by falsely claiming his father had died has been given a suspended prison term.
Michael Stockman, 31, was convicted of taking £800 from six customers only to fail to turn up, often texting his victims at short notice.
At least four times Stockman, Knockantern Green, Coleraine, County Londonderry, claimed his father had just died.
He was sentenced to six months in prison suspended for three years.
The district judge said: "I took a view at that stage that the drawback of immediately sending you to prison was that those people whose wedding plans were so cruelly destroyed by you would in all probability never be recompensed for the money which they have paid to you. To ensure that they were paid back in full I deferred sentencing for a period of six months."
He said the money had been returned and no further offending had taken place since then.
Stockman is contesting separate theft charges, he told the court. The alleged offences, similar to those of which he was convicted, happened before he received his no re-offending ultimatum from the judge, according to a representative of the Public Prosecution Service (PPS).
Stockman faces 12 new counts of theft, totalling around £1,200, allegedly committed in 2012 and 2013.