Disability not a barrier to an active life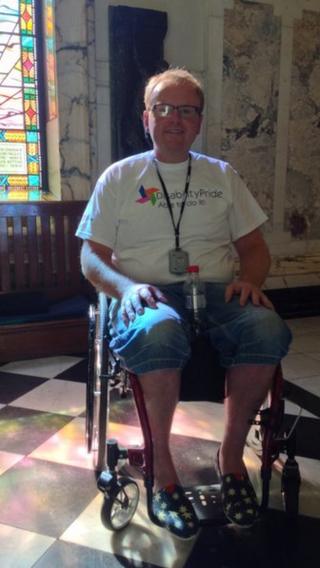 For the first time in the UK and Ireland, Belfast hosted Disability Pride on Saturday.
During the parade from Writers Square to the city hall, the only slight hitch was that the trained guide dogs - used to making sure their owners stay on the pavements - were not overly keen to walk on the roads.
Sign language accompanied the bands playing to the crowds at city hall and spectators got see the Knight's wheelchair basketball team in action.
The message of the day was that having a disability did not mean missing out an active life, something demonstrated by Disability Pride organiser Michael Holden.
"I have ice skates for my wheelchair and we can often be seen in Dundonald Ice Bowl ice skating with my children, I go sailing with Sailability, I'm a pilot and fly with Airability, which have a specially adapted aeroplane so I take part in life to the best of my ability," he said.
"I have Motor Neuron disease and use a wheelchair, but just because I use a wheelchair, I don't let that stop me doing things."
He said while there is no shortage of pursuits available these days, keeping these services going could be tough.
"The activities are there, but the main problem is that they struggle for volunteers to help keep those activity centres open," he said,
"Most of the centres are charitable organisations which rely on funding and people giving up their time to make sure they function properly.
"Hopefully the people of Belfast will see that and become encouraged to become involved in some way."
'Social life'
Jimmy Smith from Craigavon works as a carer for children with disabilities.
His son Paul uses a wheelchair and has autism.
Taking the trip to Belfast by train, he said he had noticed a big improvement in socialising opportunities for people with disabilities.
"Twenty, 30 years ago they were hidden away and excluded - maybe it was easier than taking them out - whereas now people are proud of it," he said.
"Paul loves travelling, planes, trains, boats, everything. He gets away on holidays quite frequently when we have the money."
Ian Ross, who is visually impaired, was there with his guide dog Gina.
Speaking about the challenges of growing up with a disability, Mr Ross said he grew up in Omagh but had to travel to Belfast for school.
"It's being quite difficult growing up because being visually impaired and having sight loss, I had to go to school in Belfast so I didn't have a lot of friends in Omagh. I would only see local people at the weekends," he said.
"The social aspect can be difficult but it's not so bad now as there's a lot of mainstream education, they're not separating disabled people from able-bodied.
"Now that I've got Gina, I have more opportunities to get out and about and do things independently and travel safely.
"It shows the public that just because you've got a disability you're not stupid and you've got your opinion as well as anyone else."