PSNI 'regret' over killings files delay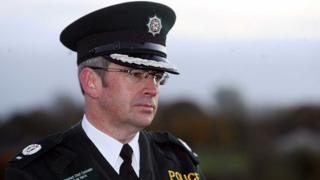 The deputy chief constable has said it was a "matter of great regret" it has taken so long for police to hand over files on nine killings in the 1980s.
Drew Harris was giving evidence to the coroner's court on Monday.
The deaths include IRA men and a Catholic teenager in 1982, shot dead by the security forces amid allegations of a "shoot-to-kill" policy.
The coroner is also examining the murders of three police officers in a bomb in Lurgan weeks earlier.
Counsel for the Coroner Frank O'Donoghue QC said the background to Mr Harris' appearance had been "a series of failed indications" and he asked Mr Harris why it had taken so long for the files to be disclosed.
Mr Harris said the main issues had been the "scale and complexity of the work", which the police had underestimated.
'Risk to life'
However, he maintained that police had given timelines to the coroner's service "in good faith".
Mr Harris told the court that police were committed to finishing disclosure by the end of December.
The court heard details of how the information - which runs to more than 80 boxes of files - was redacted to remove information which could pose a risk to life.
Mr Harris confirmed that several former Royal Ulster Constabulary officers had been recruited as researchers to work on the process, and rejected claims this posed issues over conflict of interest.
He told the court the former officers had the necessary expertise to trawl through the files.
"They are not decision makers," he said.
The killings were investigated by two senior police officers from England, John Stalker and Sir Colin Sampson, in the 1980s but their report was never published.
The court was adjourned until November, when Mr Harris will be recalled to give further evidence.