Royal Victoria Hospital's emergency department pressure concerning says MLA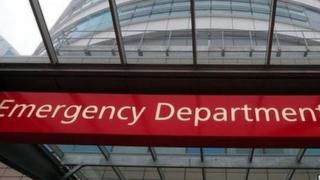 A Sinn Féin MLA has said she was "very concerned" about pressure on the emergency department at the Royal Victoria Hospital on Monday night.
At teatime, about 112 people were waiting - five had been waiting for almost 20 hours.
The Belfast Trust said although the hospital was "exceptionally busy", it did not declare a major incident.
Sinn Féin's Carál Ní Chuilín said she had recently raised concerns with the trust.
Earlier this month, she and her colleague Paul Maskey met the Belfast Trust to discuss the recent pressures on emergency departments in Belfast.
"To be honest I'm not really surprised that we're here again given the fact that there does seem to be trends where a lot of patients find themselves in A&E (accident and emergency) on a Monday and a Tuesday," she said.
"There does seem to be a pattern where people are not being discharged in an orderly fashion.
"There does seem to be a problem with health and social care investment in terms of pharmacies and care packages for people in their own homes.
"These are things that keep being repeated so it seems to be that's where the focus and attention, some of which needs to happen in order for people to be discharged."
Ms Ní Chuilín said the problems had been "ongoing for a long time now".
"I sat on the health committee in 2007 and 2011 and this is nothing new," she said.
"What strikes me from even then is that we need consultants to work over the weekend, we need pharmacies opened up, we need senior management teams actually listening to staff on the ground and listening to staff representatives because they have their frontline experience and those plans need to be made accordingly."
At 21:40 BST on Monday, the trust said the number waiting in the emergency department had dropped to 90. Fifteen were still waiting to be admitted.
The BBC understands that a busy Monday has become a familiar pattern, caused by a backlog from the weekend and all the new week's GP referrals.
Current Department of Health targets say no patient should wait longer than 12 hours.