Children's cardiac surgery review casts doubt on RVH service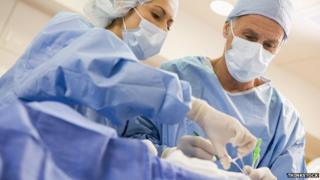 The future of children's cardiac surgery at Belfast's Royal Victoria Hospital is in serious doubt.
Outgoing Health Minister Edwin Poots said international experts recommended the service should move to Dublin.
Hundreds of families have campaigned for it to be retained in Belfast.
Mr Poots said: "We've brought in people who've got real expertise specific to this particular issue, they've made their recommendations and we will have to give them serious consideration."
'Considerable pressures'
Speaking in the assembly, he said: "Regrettably, the conclusion that these key experts have come to is that the overall model for delivering both children and adult congenital heart services on the island of Ireland wouldn't allow Belfast to sustain surgery at that site.
"This would meant the vast majority of surgery would be carried out in Dublin."
Publication of the review, produced by medical experts from Boston in the US, is long overdue.
Mr Poots said the report had been sent to the health department and counterparts in the Republic of Ireland, and he hoped they could make a further announcement "over the course of the next month".
"One of the issues is that the Republic of Ireland have to develop more intensive care beds in their children's hospital - they are building a new children's hospital but the impact of transferring all the surgery to Dublin at this moment in time will put considerable pressures upon them, so they have work to do to appropriately respond to this," he said.
Options
An all-Ireland service would be shared by Our Lady's Children's Hospital in Crumlin, Dublin, and Belfast's Royal Victoria Hospital (RVH).
One of the options the team explored was the viability of a cross-border service, with some element of surgery being maintained on the RVH site.
However, this would require Dublin surgeons agreeing to travel north to perform surgery in Belfast.
In April 2013, Mr Poots and his Republic of Ireland counterpart at the time, James Reilly, raised the possibility of a two-centre paediatric children's cardiac service.
While negotiations were positive at the start, problems arose when it emerged that surgeons working in Dublin would be required to travel to Belfast.
The BBC understands that while the Irish Department of Health is keen on the cross-border service, it feels that retaining all surgery in Dublin is more practical.
Parents in Northern Ireland have argued that some surgical element must be retained in Belfast for emergency cases.
However, those in Dublin suggested such cases were rare, and when required, children can be transported via ambulance within an hour.
The worst-case scenario would be for Dublin to pull out completely.
This would mean all children in Northern Ireland who required heart surgery would have to travel to hospitals in England.