Jim Allister questions Invest NI Saudi office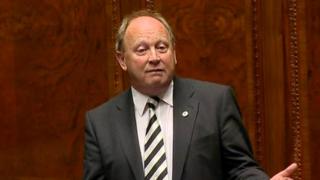 An MLA has questioned whether Invest Northern Ireland should have an office in Saudi Arabia while Christians are being persecuted in the Middle East.
TUV leader Jim Allister was speaking during a debate "noting with concern the widespread persecution and genocide of Christians in Iraq and Syria".
Mr Allister said care should be taken over trade links with other countries in the Middle East.
He raised the example of Invest Northern Ireland's office in Jeddah.
"How does that sit with our protestations this morning that we are appalled by the intolerance throughout the Middle East and the suppression of Christianity," he said.
The DUP's David McIlveen criticised Mr Allister's remarks.
"I think we have to be very careful that we are not tarring all of the Arab states with the same brush," he said.
The motion condemning the attacks on Christians was unanimously passed.