DUP Stormont ministers take up new roles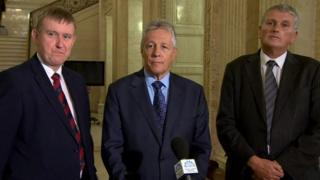 The two new Democratic Unionist Party Stormont ministers are due to start work in their new departments later.
Jim Wells has taken over from Edwin Poots in the health department, while Mervyn Storey has taken over from Nelson McCausland as social development minister.
DUP leader Peter Robinson made the announcements on his Twitter account.
He later said the two ministers who were standing down had "done a tremendous job".
Mr Wells told the BBC the role of health minister was the "most challenging position in the executive".
Last month, Mr Poots said the Department of Health was facing a major shortfall in funding, following the June monitoring round at Stormont, when departmental budgets were examined and reallocated.
He warned that he could not deliver £140m of savings.
Big issues
Mr Storey had been chairman of Stormont's education committee since 2011, and was also a member of the committee on standards and privileges.
Among his new responsibilities, are housing, social security benefits, pensions, child support and urban regeneration.
Mr Storey said the issue of welfare reform, that has caused friction between the DUP and Sinn Féin in recent months, will be one of the biggest issues facing his department.
BBC Northern Ireland political editor Mark Devenport said: "Both Jim Wells and Mervyn Storey face enormously difficult challenges during the remaining months of this assembly term.
"Mr Wells will struggle with the well documented shortfall in NHS funding, whilst Mr Storey takes responsibility for the contentious issue of welfare reform which has sharply divided the DUP and Sinn Féin."