More cars burnt out in Delhi Street, south Belfast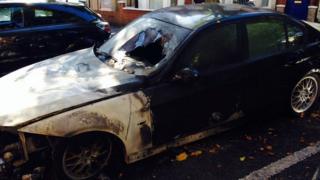 Two cars have been set on fire in Delhi Street in south Belfast.
They were set on fire in the early hours of Wednesday. It follows a number of similar incidents in the area over the weekend.
Six cars were burnt out in arson attacks between the early hours of Saturday and the early hours of Monday.
Three were targeted in two separate attacks in Cadogan Street and the others in Collingwood Avenue, Damascus Street and Delhi Street.
Police said they were taking the incidents "extremely seriously".
"A dedicated policing operation has been implemented to identify offenders and officers are being deployed with video capability," Supt Darrin Jones said.
"This is extremely reckless behaviour which poses a real risk to life. Streets in this area are very narrow and where a fire starts it has the potential to spread very rapidly."