Challenging times as Stormont budget cuts loom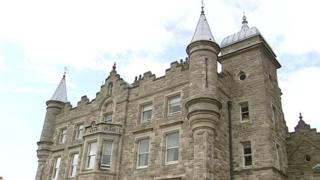 The Northern Ireland Executive faces having to make cuts of £200m before the end of the financial year.
However, there are even bigger financial challenges ahead.
Stormont's current four-year budget was agreed in 2011 - it is now groaning at the seams due to ever rising health spending and other unavoidable costs.
It was expected that another four-year budget would be struck after an assembly election in 2015.
But that election has been pushed back to 2016, meaning a one-year budget is now needed.
The timetable for that is tight.
The Department of Finance would have liked to have published a draft budget by the end of September which would then have gone out to public consultation before Christmas.
That would have allowed a revised budget to be ready early in the new year and it would then have gone through assembly debate with time to spare.
But with October almost upon us, it looks like that timetable is already slipping.
We already have a good idea how much money the executive will have to work with.
Capital spending will be up a little in total, but the resource budget - which covers all day-to-day spending - will remain flat in cash terms at £9.7bn.
When inflation is factored in that means a real-terms cut of 1.6%.
On its own that looks like a small cut, but the spending pressures on the health services are not going away and there are also pay and pension cost pressures.
If welfare reform is not agreed, a further £114m will be lopped off the budget.
When the executive comes to allocating these reduced resources, the pain will not be shared equally.
There is consensus that the (DUP-controlled) health department should be protected and that the Sinn Féin-controlled education department should also have a degree of protection.
These are the two biggest spending departments by some distance, so the cuts will fall heavily on other departments.
The number being mentioned is an eye-watering 14% cut to those unprotected departments.
That large cut will come on top of four years of budget restraint during which most of the easy savings were made.
Some more efficiencies can probably be wrung out of the system - the Department of Finance reckons its asset management strategy still contains significant scope for savings.
But it looks increasingly likely that bigger savings are going to have to be made on staff costs.
Already the plug has been pulled on a civil service promotion exercise and, for the first time, redundancy schemes are being talked about.
The number of people working in the public sector has already been falling.
The official figures for 2010 -13 show a 4% drop in Northern Ireland, but in Scotland the numbers are down by almost 8% in the same period. In England the fall is more than 10%.
The executive may also have to consider the future of some of its "nice to have" policies.
Will free prescriptions and free travel for the elderly be up for discussion?
Or could the long-resisted water charges come back onto the agenda?