Ciaran McCleave: CCTV operator jailed for voyeurism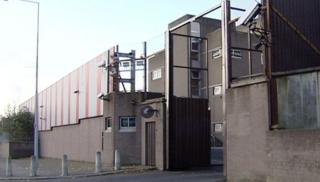 A CCTV operator who was convicted of spying on a woman in north Belfast with a police camera has been jailed for a total of eight months.
Ciaran McCleave, 51, of Collinward Gardens, Newtownabbey, was convicted of voyeurism and misconduct in a public office at Antrim Road police station.
The court heard, he had directed a camera at a woman's apartment for 79 minutes over a 26-day period.
A judge said he had spied on the woman for his own "sexual gratification".
On one occasion, the woman was viewed in her underwear after coming out of the shower. The camera he used was supposed to monitor a north Belfast interface.
McCleave faced eight charges - misconduct in a public office, voyeurism and six counts of attempted voyeurism. The offences were committed between 29 October, 2012 and 14 November, 2012.
He was convicted of the charges in June.
'State of undress'
Passing sentence on Friday, Judge Ramsey QC said McCleave's conduct was a "flagrant and wilful abuse of the trust placed in you by the public as a CCTV operator".
The judge said the defendant had deliberately "trained the camera on her apartment to catch her in a state of undress''.
"This was, in any view, a gross intrusion into the privacy of this woman in her apartment for your personal sexual gratification," he said.
The judge said that as a result of his misconduct in public office he had "lost his job, his reputation and his good name".
He said the only mitigating factor in McCleave's favour was that he was a "man of previous good character with no criminal convictions''.
During the trial, the jury heard how the alarm was raised by a colleague of McCleave's who noticed that a security camera being operated by McCleave was trained into the first floor window of an apartment in north Belfast.
The camera's default position was to monitor an interface but McCleave used the camera to zoom into the apartment when he watched the woman in her flat.
McCleave was also convicted of six counts of attempted voyeurism, having zoomed the same camera into the same woman's apartment on all occasions.
The jury was also shown footage of cameras being used by McCleave zooming in on women going about their business in Belfast.
Supt Muir Clark said it was "regrettable this incident took place".
"It was something we uncovered locally and we dealt with robustly," he said.
"It is right that those working for the Police Service of Northern Ireland are held to account via a number of mechanisms including through the legal system.
"As a result of this incident, we have reviewed the work processes of our CCTV operators and have put into place a number of procedures to help minimise the risk of this happening again."