Eamon Collins murder: Two men released unconditionally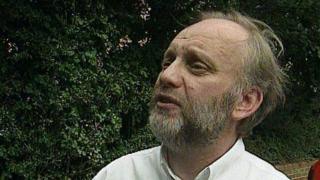 Two men who were arrested by police investigating the murder of former IRA man Eamon Collins 15 years ago have been released unconditionally.
Mr Collins was beaten and stabbed to death in Newry, County Down, in January 1999. Police believe he may also have been deliberately struck by a car.
His body was found at Dorans Hill, a country road a short distance from his home in the Barcroft estate in Newry.
The two men, aged 42 and 55, were arrested in Newry on Thursday.
Mr Collins, who was 45 at the time of his murder, was an IRA member who later turned supergrass, the term used for those prepared to give evidence against former associates.
In January of this year, police said they had DNA obtained from the murder scene.
While in the IRA, Mr Collins collected information on police officers and Royal Ulster Constabulary special branch members and set up assassinations over a six-year period.
Although he never directly shot anyone, he provided information and recruited members.
He was arrested in 1985 and charged with 50 terrorist offences including five murders and membership of the IRA.
At that point he became a supergrass, and more than 40 suspects were arrested as a result of the evidence he gave against them, but most were released after Mr Collins had a change of heart.
He walked free from Belfast Crown Court after the judge dismissed his alleged confessions.
He later wrote a book, Killing Rage, which was highly critical of the IRA.