Civil Service chief to warn Treasury over NI budget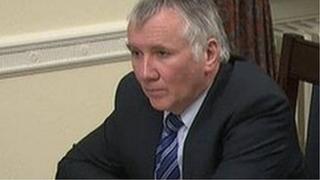 The head of Northern Ireland's civil service is preparing to warn the Treasury that the Executive's finances may go into the red.
Sources said Dr Malcom McKibbin would tell Treasury officials within days of his concerns that Stormont is about to exceed its spending limits.
The news comes as Deputy First Minister Martin McGuinness called for Westminster to freeze £87m in fines.
NI faces penalties for not endorsing welfare reforms passed by Westminster.
Mr McGuinness said this would allow parties to enter talks over the current deadlock.
But First Minister Peter Robinson accused Sinn Féin of failing to face reality over welfare reform.
"This is a crisis situation caused by crankery within Sinn Féin. It is totally irresponsible," he said.
"As a responsible government, we have to take the hard decisions. We are not there to be applauded from the sidelines because we just take the nice decisions."
A spokesman for the Northern Ireland Office said the £87m was not a fine.
"It is up to NI to either maintain parity with Great Britain in respect of welfare payments, or for the executive to pay extra for them," he said.